Little Manistee River Weir Boosts Large Game Fish Populations in the Great Lakes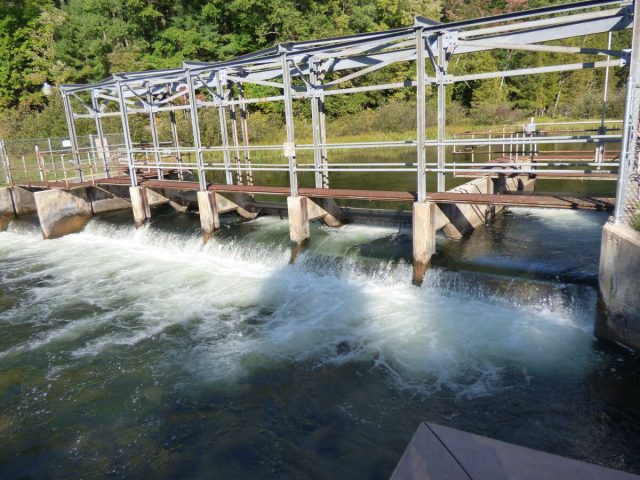 The Little Manistee River Weir is a salmon and trout harvest and egg-take facility operated by the Michigan DNR Fisheries Division.  The weir is a temporary barrier placed between the Little Manistee River and Lake Michigan in March and April and from August through November.  The fish are diverted through a fish ladder that simulates the natural flow of the river.  Eggs and milt are harvested from the fish once they enter the facility.  Harvest of Chinook salmon occurs in the fall and steelhead trout in the spring.  Fertilized eggs collected at the facility are sent to fish hatcheries around Michigan where they are reared and later stocked throughout the state.  
Large game fish populations in Lake Michigan have declined in recent years due to the invasive quagga mussel.  Quagga mussels remove nutrients from the lakes needed to sustain phytoplankton and zooplankton.  These tiny aquatic plants and animals feed the prey fish of salmon and trout.  As the mussels remove nutrients from the lakes, fewer prey fish can survive, and large game fish populations are reduced.  
The work done at the facility helps to ensure healthy populations of Chinook salmon and steelhead trout in the Great Lakes.
Read the full article on Manistee News Advocate here.