SepticSmart Week: Top 10 Ways to Be a Good Septic Owner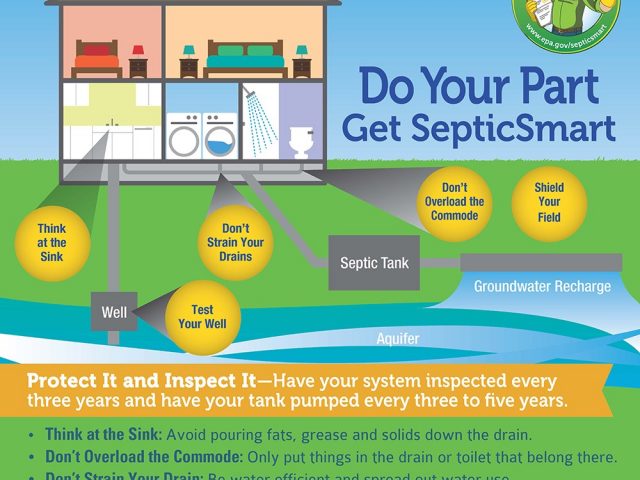 Summary
Michigan is the only state that lacks a law to protect lakes and streams, private wells, and public health from uncontrolled septic system waste but you don't need to wait for the law to change to do your part to protect our water.
Michiganders who rely on septic systems to treat and discharge their sewage don't need to wait for a state law requiring them to maintain those systems. Their voluntary acts and practices can help prevent further groundwater and surface water pollution from failing and malfunctioning septic systems, and save them money and headaches too.
Most importantly, owners of homes with septic systems should have tanks pumped and examined at least once every three years. If the inspection yields evidence of a failing system, the tank should be replaced. Replacing failing systems is expensive – but the cost of not doing so includes risking the health of the household if a drinking water well is in the path of the slowly moving waste. It also puts neighbors and recreational users of contaminated streams at risk from fecal bacteria and household chemicals.
The State of Michigan is launching a $35 million low-interest loan program to assist homeowners in defraying the cost of septic system replacement.
Top 10 Ways to Be a Good Septic Owner
Other SepticSmart quick tips on protecting your septic system from failure:
Have your system inspected every three years by a qualified professional or according to your local health department's recommendations.
Have your septic tank pumped, when necessary, generally every three to five years.
Avoid pouring harsh products (e.g., oils, grease, chemicals, paint, medications) down the drain.
Make efficient use of water and do not operate several water-intensive appliances at the same time. Doing otherwise can lead to a septic system backup into your house.
Keep the surface over a septic system drain field clear. Roots and heavy objects can disrupt the treatment of waste in the septic system.
For the full list of Top 10 Ways to Be a Good Septic Owner, click here or on the image.
Stay tuned during SepticSmart Week to www.ForLoveOfWater.org and FLOW's Facebook, Instagram, and Twitter for daily updates. To get you started, here is today's tip from the U.S. Environmental Protection Agency reminding all of us to Protect It and Inspect It!