New Report released, Building Consensus: Securing Protection of Michigan's Groundwater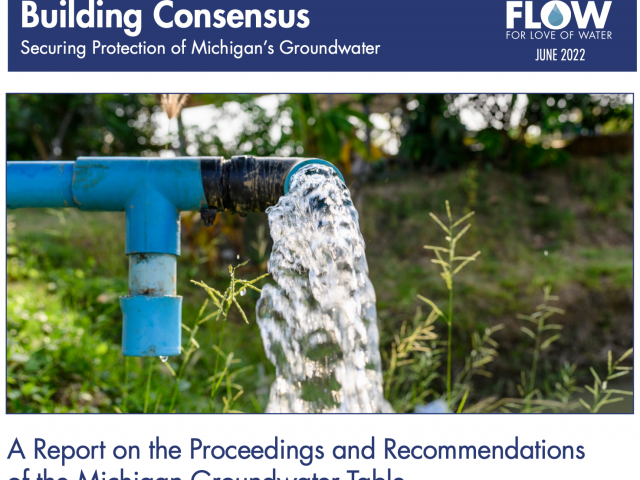 FLOW, For Love Of Water has released an important new report, Building Consensus: Securing Protection of Michigan's Groundwater, and a related story map swelling with interactive information on groundwater.
The report summarizes more than a year of proceedings and the resulting recommendations by members of  the Michigan Groundwater Table, a group of key stakeholders we convened to explore how scientific knowledge and data could be used to advance groundwater reform and management.
Six bimonthly presentations—ranging from an overview of Michigan's groundwater, to the need for better groundwater monitoring and data, to the challenge of failing septic systems—informed Michigan Groundwater Table members of key concerns. Based on this information and their own knowledge, Groundwater Table members largely agreed on a consensus statement that includes findings about the state of Michigan's groundwater resources and programs, while discussing potential policy solutions related to:
Polluter pay

Private wells

Agricultural stewardship

Statewide septic code

Public education

Data tools.
Groundwater Table members agreed that Michigan's groundwater is a "critical and often overlooked resource," vital to the state's public health, agriculture and other businesses, coldwater fisheries, stream ecology, and wetlands, and accounts for at least 25% of the total water inflow to the Great Lakes via groundwater inflow into tributaries. They also found that Michigan has underinvested in monitoring, mapping, and reporting groundwater quantity and quality.