In Detroit, 'trash fishing' is a thing and it's reeling in big catches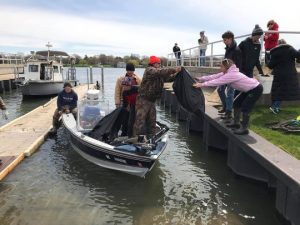 A group hauls bags of trash off the boat after a trash fishing expedition. (Photo: Trash Fishing Facebook page)
Instead of hooking bass, a father and son duo are netting a different kind of catch: trash.
About a year ago, Tom Nardone founded Trash Fishing, a group that searches the shorelines and depths of the Detroit River for garbage in an effort to combine volunteering and fun.
Nardone says, "It's kind of like regular fishing, except you'd catch three things in an hour. If you go trash fishing you catch 300 things in an hour."
One of the Nardones first finds was a stray water ski. A magnetic search device led to the discovery of a Lime electric scooter. They've pulled up hundreds of pounds of stray water bottles, soda bottles and Styrofoam containers.
Nardone claims, "most of the stuff we see is not really malicious, it's just accidental trash- there is a ton of it."
Most of their finds go to the landfill or recycling plant, but some of it's worth keeping. The trash fisherman's most prized possession is an old buoy the Coast Guard used to deploy in the water to find bodies.
The group meets Saturday mornings for informal competitions modeled off bass-fishing tournaments. There are six scheduled through September, according to the group's Facebook page.
The goal is to pick up as much trash as possible in two hours, with awards handed out for most trash, biggest piece of trash and most interesting piece of trash.
Nardone describes it as a low-budget, fast-paced operation. They have clean-up supplies, minus boats, for anyone who shows up.
Original article: Detroit Free Press