Funding for farmers near Western Lake Erie Basin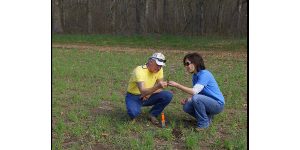 LANSING — The Michigan Department of Agriculture and Rural Development (MDARD) is proud to announce a new program that will provide reimbursement to farmers near the Western Lake Erie Basin (WLEB) who conduct soil testing. Soil Testing to Reduce Agriculture Nutrient Delivery (STRAND) will help farmers make informed decisions about nutrient applications to cropland based on soil testing, which will ultimately help improve the water quality of Lake Erie.
Farmers in the WLEB can receive reimbursement from STRAND if they implement one of the following nutrient management practices:
-Grid/zone sampling
-Variable rate application or subsurface placement
-Yield monitor calibration and evaluation of nutrient management with Michigan State University
-Extension Equipment/upgrades that will assist with nutrient placement (nitrogen and/or phosphorus), subsurface placement, or yield monitoring
STRAND is a collaboration between MDARD and local agriculture and conservation partners to help farmers in the WLEB reduce the amount of phosphorus entering Lake Erie. Agricultural runoff, such as phosphorus from fertilizer, is one of the known causes of algal blooms in Lake Erie. To reduce phosphorus runoff, STRAND will work with farmers to increase adoption of grid/zone soil testing and other nutrient management practices.
"We are really excited about this program," said MDARD Director Gary McDowell. "Farmers will be able to test and incorporate new technologies into their farming practices. These will help to address the issues of phosphorus loading in Lake Erie. It can help farmers conduct precise soil analysis, which can result in more efficient fertilizer use."
"This program aligns with our values to promote stewardship, improve water quality, and encourage public participation to protect and preserve our water," said Stephen May, executive director of the River Raisin Watershed Council.
"We are glad to see this project reach directly to producers in the Western Lake Erie Basin," said Jim Zook, executive director of Michigan Corn Growers Association. "STRAND will encourage and support corn growers as they implement best management practices for better water quality."
The funds for this program are made possible through an EPA Great Lakes Restoration Initiative grant. All farmers in the WLEB are eligible. Funding will be available on a first-come, first-serve basis until funds are expended.
For more information or to apply, contact your local conservation district:
Lenawee Conservation District
1100 Sutton Road
Adrian, MI 49221
Phone: (517) 265-5887
Jackson Conservation District
211 W. Ganson Street #200
Jackson, MI 49201
Phone (517) 395-2082
Hillsdale Conservation District
588 Olds Street, Bldg. 2
Jonesville, MI 49250
Phone: (517) 849-9890
Washtenaw Conservation District
7203 Jackson Road
Ann Arbor, MI 48103
Phone: (734) 205-1219
Monroe Conservation District
1137 S. Telegraph Road
Monroe, MI 48161
Phone: (734)-265-9311
Wayne Conservation District
(734) 265-9311 – Technical Assistance
Website: www.waynecdmi.org
To learn about other collaborative efforts to improve and maintain the WLEB's water quality, visit https://wleb.org/ or https://www.facebook.com/MIClearPartnership.
— Michigan Department of Agriculture