Businesses are eliminating plastic straws to reduce trash and save Lake Erie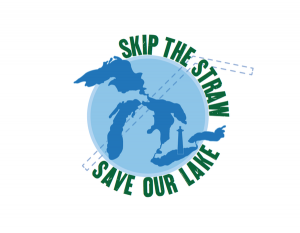 Absolut Vodka and Malibu Rum have given $5,000 to the Lake Erie Foundation, after a campaign to eliminate plastic straws saved 300,000 from the Put-in-Bay trash this summer.
Absolut has teamed up with Keep America Beautiful, a national organization encouraging people to take action toward improving and beautifying their communities. Locally, Absolut is working with MareAthletic and Green Girl Gang to spread the message on going strawless.
The I-X Center is going strawless during the NARI Home Improvement Show and Cleveland Boat Show Jan. 17-21. The center will provide biodegradable lids and straws to patrons who need them.
"I thought it was important to bring the issue to the IX Center and they were completely supportive," said Michelle Burke, executive director of the Lake Erie Marine Trades Association, which presents the boat show.
Data obtained from a Rochester Institute of Technology Study shows that the United States and Canada discard 22 million pounds of plastic into the Great Lakes every year. Much of the plastics comes flushed from streets, through storm drains and into the lake. Then it washes up on shore, making up about 80 percent of the litter on beaches.
Southern Glazer's Wine and Spirits led the effort at Put-in-Bay and in Cleveland's Flats. They are currently working with the Great Lakes Alliance to target Michigan businesses next summer and hope to expand throughout the Great Lakes.
Cleveland's Market Garden Brewery, along with its four sister bars and restaurants, began to skip on all single-use plastics late last year reports cleveland.com. Guests only receive straws if they ask for one or with certain cocktails. They then receive a paper straw.
Plastics are often consumed by fish and wildlife as they commonly mistake it for food. This can be harmful to their health as there are a number of toxins in plastic. Direct toxicity from plastics comes from lead, cadmium, and mercury. These toxins have also been found in many fish in the ocean, which is very dangerous for humans. Diethylhexyl phthalate (DEHP) contained in some plastics, is a toxic carcinogen. Other toxins in plastics are directly linked to cancers, birth defects, immune system problems, and childhood developmental issues.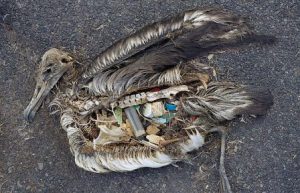 If we continue to discard plastics into our waterways, we will not have clean/plastic free fish to consume and food webs in our Great Lakes ecosystem will collapse.
Plastic pollution in the Great Lakes is directly impacting human health, fish and wildlife and our economy (fishing industry).
Some would say we should just get better at discarding our trash into a waste basket. However,  plastic is still plastic and if we continue to throw it away it will just continue to pile up in our landfills. Decreasing our use of single use plastics and using more eco-friendly options such as paper will help our environment out tremendously as paper is biodegradable. Many businesses and fast food chains used to give out paper straws before single use plastics became the norm in our society.
Do you use straws? Are you switching to paper or metal? Alternative reusable metal straws can be found here. 
Article was adapted from the original article written by Laura Johnston, cleveland.com