Benzie Watershed Stream Monitoring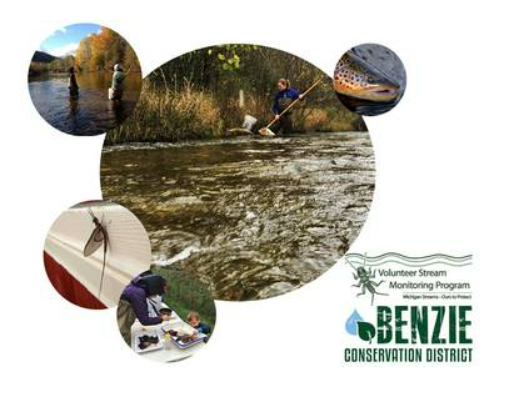 Since 2012 the Benzie Conservation District has been working with caring volunteers to help assess the quality and health the Benzie County's lotic (flowing) waters. As part of Michigan Clean Water Corps' Volunteer Stream Monitoring Program (VSMP) our teams have been collecting aquatic macroinvertebrates at nine sites within the Platte, Betsie and Herring Lakes watersheds. Based on the types (taxonomic orders and families) of macroinvertebrates collected we can compute a Stream Quality Index (SQI) score for each site which will be used to track changes in water quality over time.
If you are interested in joining us or want to learn more please contact conservation specialist John Ransom at 231-882-4391 or john@benziecd.org. All ages and experience levels welcome. Sampling gear, waders, and lunch will be provided.
VSMP is a biannual stream quality sampling event that takes place in the Spring and Fall. Volunteers assist with the collection of macroinvertebrates from multiple sites along the Platte and Betsie rivers. First time volunteers will be responsible for sorting through the samples, picking out the macroinvertebrates from the rocks and leaves, and putting them in a collection jar. No training is required and this is a great way to get introduced to the steam monitoring process and the interesting creatures that live in our rivers. Volunteers can also participate in the collection of samples if they are familiar with native aquatic habitats or are willing to undergo training in order to become familiar with the habitats. For more information Check out our Quality Assurance Project Plan.
If you have any questions or are interested in participating in our next collection event, please contact our conservation specialist, John Ransom, at 231-882-4391 or john@benziecd.org.