10th Annual Cedar River Cleanup – Gladwin County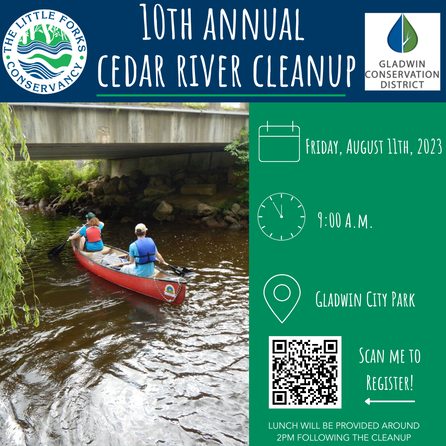 Help keep the Cedar River clean by kayaking and picking up trash from Chappel Dam to Gladwin City Park. Kayaks and lunch are provided! *REGISTRATION FOR THIS EVENT IS REQUIRED*
We will meet at Gladwin City Park at 9am where we will have introductions, discuss the schedule, and hand out materials for the day. Plan to be on the water for about 3 hours and paddling about 4.5 miles of river. We will then eat lunch back at Gladwin City Park. Don't forget to bring water and sunscreen!
We have 20 kayaks available. If you will be bringing your own, please indicate that with your ticket selection. If you will be bringing your own you will need to drop it off at 1105 Chappel Dam Rd Gladwin, MI 48624 prior to 9am and then go to Gladwin City Park for the shuttle.
​
This event is possible because of our partnership with The Little Forks Conservancy. Ike's Mobile Kayaks, Gladwin City Park, Gladwin Transit Authority, and Boardman River Clean Sweep also contribute to the Cedar River Cleanup Event!